Instructions to livestream Cubase on computer directly through OBS software or using the browser's feature (for computers that are not configured enough to run OBS).
Hi, if you've been through my Cubase tutorials series, you'll probably be Surely you are ready to livestream your voice live on social networks like Facebook, Youtube or Bigo. So how is the livestream and what is the best form of livestream.
See more: Singing livestream facebook needs these what?
There are actually a lot of software that support livestreams, but the most popular one is still OBS. OBS Studio is a free and open source cross-platform streaming and recording program built with Qt. The software is very light and easy to use, so it is used by most streamers.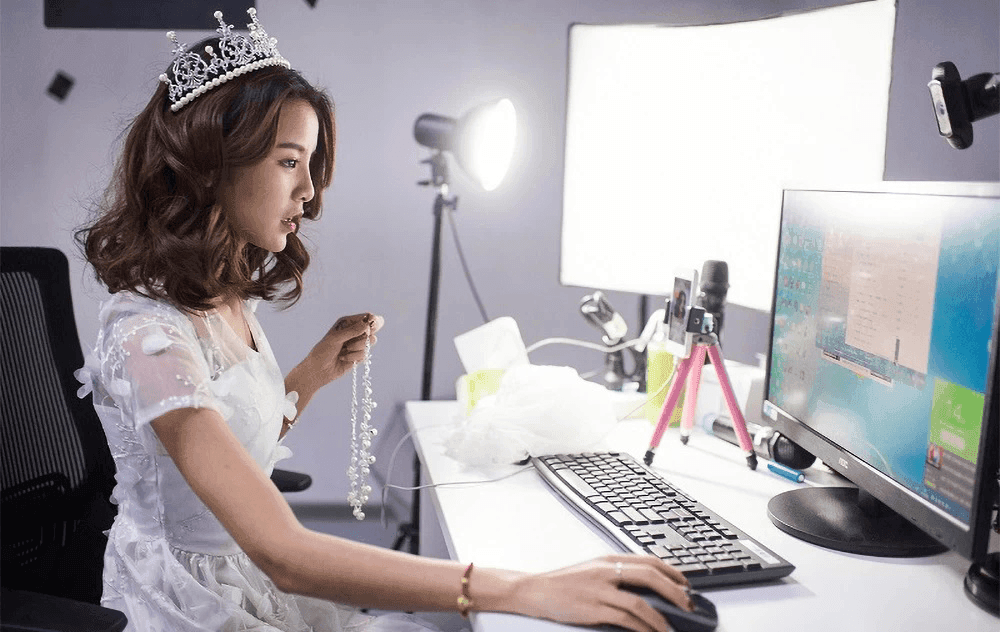 I. Instructions to livestream Cubase on live computers
See more: Cubase 10 Pro Full Crack and installation instructions
1. Livestream Cubase on computer using OBS software
Go to OBS Studio and download the right version for your operating system, if you are using Cubase make sure have to download the version for Windows, because as far as I know, currently only Windows can run Cubase and Plugins.
After downloading, install and skip the Wizard step for manual setup, OBS interface is as follows:
After opening Cubase and Youtube software in your browser (Chrome, Coc Coc or Microsoft Edge), you open a new tab, access www .facebook.com and log in to the account you need to use to livestream.
Important note: For those of you who use soundcards that do not have their own drivers like soundcard K10, Icon Upod that If you have to use the ASIO4ALL driver, you must open Cubase before opening the Google Chrome, OBS software… Otherwise Cubase will have no sound because you can't get the right to use the Soundcard.
Next, at the facebook interface, select Live Video
Next, you select "Use stream key" (1), check the box "Use fixed stream key" (2) so that next time you don't need to do it again. Set title (3) and description (4) for this live video.
Click the copy button at Stream Lock and return to the OBS interface

At the OBS interface, select Setting => Stream => select Facebook live (3) and paste the stream key you just copied into (4), then press OK to finish.
If your internet is weak, you can go down to the Output tab and lower the Video Bitrate to between 750 – 1500Kbps.
For livestream video content, OBS provides many sources such as camera recording, display screen, Game, browser or any application… In the Sourses window, select the + sign and add one or more content, namely:
(2) Using a computer webcam
(3) Record video only of a specific application window
(4) Record any what happens on the computer screen.
Next is the audio input setting, you mute the Desktop audio, select the gear in Mix/Aux and select Properties. A Device list appears, select Mix 01 (ASIOVAPRO Driver).
Turn off Desktop sound (1) and sound from Webcam (if any). Just leave the Mic/Aux alone!
Once done, press the Start Streaming button in the Control frame as shown.
Next, you switch to the Facebook tab on Chrome browser and you will see the video that OBS transmits, click the Go Live button to start.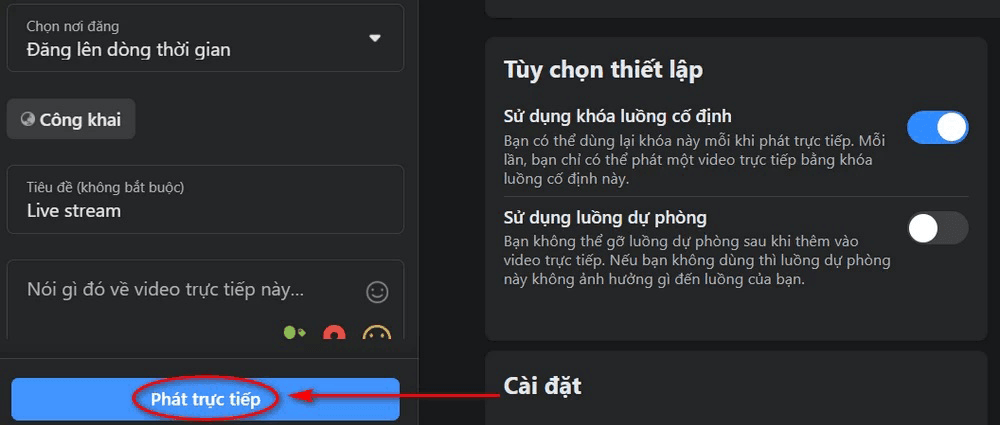 Done, so you can sing live audio from cubase through OBS software already.
2. Livestream Cubase on PC without OBS
For some computers that can only run Cubase and web browsers, opening more OBS to livestream makes the device lag a lot but still wants to livestream on the computer, this is the only solution for you.
Similar to when livestreaming with OBS, but this time in facebook's livestream, select "Use camera".

A dialog box asking to access Camera appears, click Allow
In the Settings section, choose
(1) Integrated Wecam if you want to use Webcam to livestream.
(2) Share screen if you want to livestream what's happening on your computer screen.
(3) Leave default or reselect Mix 01 (ASIOVADPRO) if default is not.
Click "Go Live" to start singing live.
With cubase livestream on a live computer without using OBS, it will help reduce lag for the computer, but there are many limitations such as difficulty in customizing the livestream content, not being able to insert existing text or video.
II. Compare Cubase livestream on mobile and computer
1. Use your phone to livestream Cubase software
Live streaming Cubase software audio over the phone is a form of using a signal wire to transmit audio signals from the soundcard to the phone for live streaming. Because during the transmission process, the audio is continuously converted from Analog to Digital and vice versa, so the quality is greatly reduced.
Advantage: Simple, easy to use, good video quality because the phone camera is usually better than the computer Webcam, does not cause lag for older computers
Limitations: The output sound is not good, the quality is significantly reduced.
There are a number of live box devices on the market that use OTG technology to help keep the original sound quality. Prices range from a few hundred to several million, if you have a need to use it, you can contact us via Zalo: 09099997780
2. Livestream on computer
Advantage: Audio retains original definition, video customization when using OBS such as inserting text, combining fonts.
Constraints: Video quality depends on Webcam, requires high configuration computer and is quite complicated for some of you who are not familiar with computers.
III. Summary
Depending on your computer configuration, you can choose the appropriate livestreaming method. However, livestream on the browser is only a temporary solution for weakly configured devices, and OBS is specialized software with many more advanced features.
If you have difficulty in installing Cubase as well as livestreaming on your computer, please contact us. with me or leave a comment below.
Good luck!