When talking about the set plugin studio quality audio, Valhalla DSP Bundle has always been a famous name that professional music creators don't can be ignored. Valhalla DSP has built a strong reputation in the audio industry for delivering cutting-edge solutions and impressive performance.
The Valhalla DSP Plugin Bundle, packed with powerful tools, is one of the top choices for creating unique, high-quality sounds in music and audio projects.
List of plugins in Valhalla DSP Bundle:
ValhallaRoom: This is a top-notch reverb with many powerful features that allow you to create diverse sound spaces, from low space to large space with great flexibility.
ValhallaVintageVerb: This plugin is designed to bring out the feel of classic and showy reverbs, making your sound more impressive and stylish.
ValhallaShimmer: With ValhallaShimmer, you have the ability to create spatial sound effects and use the shimmer feature to create unique and attractive sounds.
ValhallaUberMod: This plugin is a versatile tool with many different modulations, allowing you to create complex and unique sounds.
ValhallaDelay: ValhallaDelay is a powerful set of delay plugins with many high-performance features and diverse delay effects.
ValhallaPlate: Designed based on the simulation of famous Plate reverb machines, ValhallaPlate brings you reverb sounds with excellent quality and performance.
I. Download the complete Valhalla DSP bundle Full Active Plugin
To download Valhalla DSP bundle Full Active, click the Download button below, wait for the waiting time to expire and a high-speed Google Drive link will appear.
Valhalla DSP bundle for Windows
Valhalla DSP bundle for Macbook
II. Install the complete Valhalla DSP bundle Full Active Plugin
1. Install Valhalla DSP bundle Plugin for Windows
After downloading the Valhalla DSP bundle installation file for Windows to your computer, run the program and install it like a normal application. If you only use it as a DAW plugin, just tick 64 bit VST3.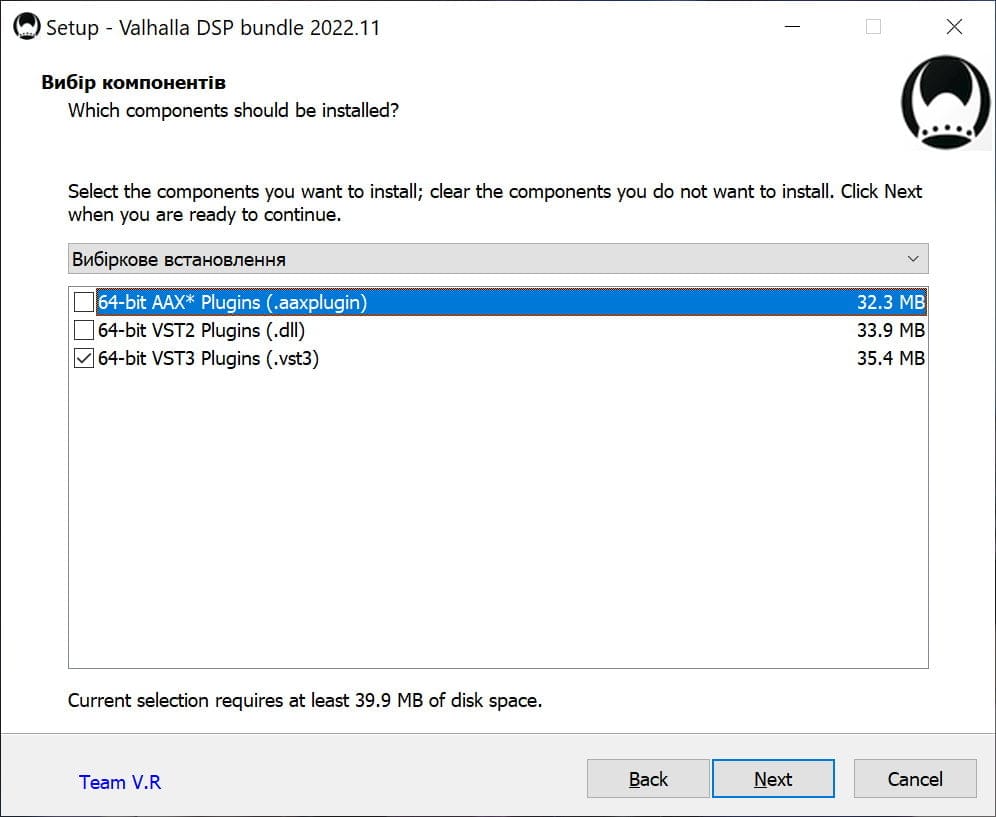 2. Install Valhalla DSP bundle Plugin for Macbook
After extracting the downloaded file, install each plugin you need to use in turn in the install
folder.
Go to the Component folder, drag all the files with the *.component extension to the Components alias shortcut. Select Replace to overwrite the existing file.
Similarly, Go to the VST3 folder, drag all the files with the *.vst3 extension to the VST3 alias shortcut. Select Replace to overwrite the existing file.
Open the DAW software you are using such as Cubase, Studio One, Logic ProX. Insert each plugin of the Valhalla DSP set into any track, the plugin will notify you that it needs a key to activate.
Click OK and point to the file named corresponding to the plugin located in the key folder extracted above. For example, here I am activating the Vahalla Delay plugin, pointing to a file of the same name with the extension vkeyfile.
The plugin displays a success message, click OK to start using the plugin. Do the same with each plugin you want to install and use.
III. Conclusion
Reasons you should choose Valhalla DSP Bundle:
Superior sound quality: Valhalla DSP always strives to create plugins with the best sound quality, making your projects more impressive.
Ease of use: The user-friendly interface of the plugins in the Valhalla DSP Bundle helps users take full advantage of the powerful features they offer.
Variety: This set of plugins offers a range of audio tools ranging from reverb to delays and modulations, helping you express your musical creativity.
Professional Support: Valhalla DSP always provides dedicated and professional support to customers, ensuring that you have the help you need when using their plugins.
If you are looking for a powerful and diverse set of audio plugins to enhance your music productions, Valhalla DSP Bundle is an excellent choice. This kit has achieved widespread recognition in the industry and is consistently praised by audio creators for its quality and performance.