Nuro Audio Xvox is a simple but extremely professional and effective vocal processing plugin, designed to Enhance the sound quality of your voice. With a host of unique features, Xvox not only makes vocals powerful and clear, but also offers the flexibility to tailor the sound to your preferences.
The plugin's interface is very easy to use, allowing users to achieve great results with ease. This plugin provides more than 100 different presets, giving users quick access to many different professional vocal styles.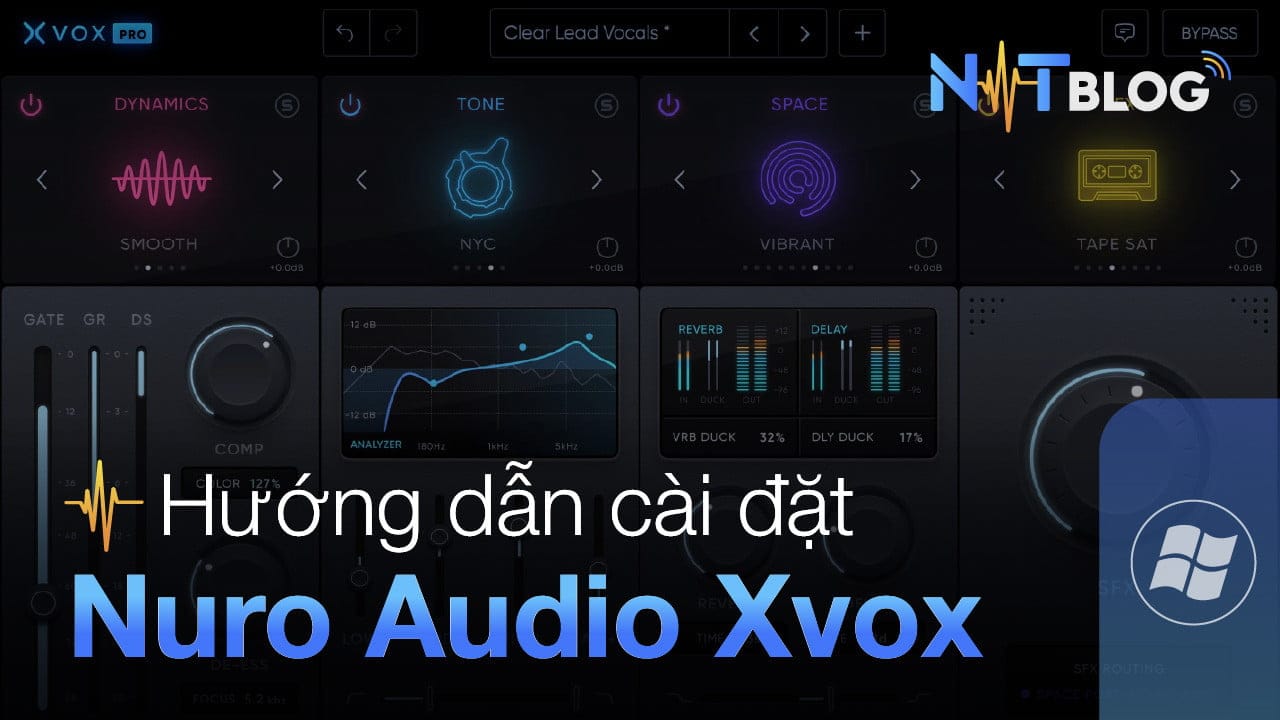 I. Download Nuro Audio Xvox Full Active
To download Nuro Audio Xvox Full Active, click the Download button below, wait until the waiting time is over and a high-speed Google Drive link will appear.
Password if any: ntblog.net
II. Install and use the Nuro Audio Xvox plugin
Similar to other plugins, after downloading, extracting and running the installation file, click next and wait until the installation process is successful.
The software is completely clean, virus-free, so you don't need to turn off Defender or firewall.
Start into any DAW (Cubase, Studio one…), the software will automatically scan and recognize the plugin . Now go to insert and find the plugin named Xvox.
Note: The plugin inserts directly into the insert of the vocal track, not Send. Normally your vocal track is mono, but for the plugin to work properly and best, you must leave your vocals in Stereo mode.
Plugin includes the following main features:
Compressor: Xvox is equipped with a sound compression feature, which helps even out vocal amplitudes and create a stable, professional sound.
De-ess (Reduce hissing noise): This feature minimizes unwanted hiss in vocals, enhancing vocal clarity and cleanliness.
Equalizer: Xvox provides an equalizer so you can adjust different frequencies on your vocals, creating a sound that is precise and reflects your preferences.
Air+ (High Sound Enhancement): The Air+ feature is a powerful tool to enhance high frequencies, making vocals more creative and stand out.
Reverb: Xvox provides echo effects for vocals, and automatically creates echo tracks without affecting the main vocal, saving time and effort.
Delay (Repeat effect): The Delay feature creates a repeating vocal sound, helping to fill in audio gaps and create special emphasis, similar to Reverb.
SFX (Special Effects): Xvox offers special modes to create unique and creative effects for vocals, bringing variety and originality to your music productions.
Each feature has presets available, you can choose your favorite effects.
III. Conclusion
Nuro Audio Xvox's interface is very easy to use, helping users get great results easily without having to understand too much.
The Nuro Audio XVox plugin provides users with more than 100 different presets, giving users quick access to many different professional vocal styles.